Zombie bot malware is often one of the hardest malware to detect in a computer, this is due to the fact that it can bypass any known antivirus and software without majorly affecting the operating system. The computer will then become part of a botnet which is a network of hacked computers which can be controlled by the hacker. These bots can be used to launch DDoS attacks that could harm the computer causing it to malfunction and breakdown.
Infection by zombie bot malware is often easy and unsuspicious. This may include, downloading unknown files, visiting hacked sites, and running email attachments blindly. Owing to the fact that zombie malware are very light on the system, they are difficult to detect upon first infection.
A more effective way to detect bot infection is by analyzing the computer's behaviour and here are 6 tools that do that.
DE-Cleaner powered by Avira
The Association of the German Internet Industry created Avira DE-Cleaner which is a free service.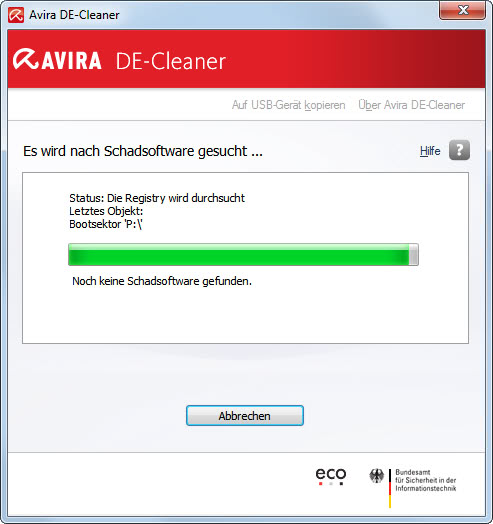 In order to download its latest pattern forms an internet connection is required. The graphical user interface however, is only in German but it can be easily used by clicking two buttons. Avira DE-Cleaner can also be copied to an external USB drive for portable usage by clicking "Auf USB-gerät kopieren".
DE-Cleaner powered by Kaspersky
just from the name, we know that this DE- cleaner was created by kaspersky same as the antivirus in German interface.

Other interfaces up to 10 are all in German the only interface in English is the eleventh that can be downloaded from the Kaspersky website.
RuBotted

RuBotted is created by Trend Micro. It is free and requires zero configurations. Simply download, install and allow the program to run automatically during Windows start-up.
RuBotted depends on its other in built free tools such as house call which cleans up bot malware upon infection detection. It also works with Smart protection network (their cloud based technology) to find known and unknown botnets. Its downside however is it was last updated in 2010.

Mirage Anti-Bot


Mirage Anti-Bot's mainly uses the windows HOSTS file to prevent the user from connecting to the known command and control. Its creator is Jean-Pierre LESUEUR( Phrozen Software). This system automatically updates the block lists though it can also be done manually by clicking the update button. Its downside is that it doesn't backup the original HOSTS before adding other hosts.

5. Bot Revolt

Bot Revolt basically does what peer block does that is, blocking known IP addresses. These IP addresses list is compiled from spamcop, I block and other sources. However, it claims to an anti botnet consumer software that protects your computer from virus, bots and hackers. A Botrevolt check all packages received by the computer and compare it with its blacklist thus automatically allows or blocks it from being received.

It costs $47 per year and the demo trial version is almost impossible to use owing to the fact that it is fully crippted. Thus to properly use it, it has to be bought.

6. Norton Power Eraser

Norton Power Eraser is more aggressive than other antivirus software. It used to be part of DE-Cleaner but was withdrawn. This system can run three different types of scans at once reputation scan, system scan and multi-boot scan by clicking on advance settings. Making it more effective than most.