One the most brutal threat on the internet is represented by bots and botnets. Have you noticed that your device is going slow without an obvious reason? A possible main cause could be represented by internet bots that have intentionally striked through your computer or you device.
What is botnet or internet bot?
Internet bots, WWW robots or simply bots, are a kind of applications that working automatically on the internet on tasks that could be a lot much difficult to develop for a simple programmer.
Actually some SEO use internet bots to monitoring web and sites to catalogue some more important information from various sources online, some sites that work on forex and trading usually use on botnets to point better bargain in a few seconds. But that kind of applications working also to collect or to deliver important informations news, sports, exchange rates or wheater conditions.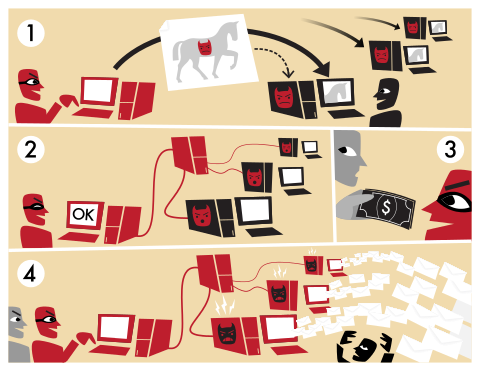 By the way, not all bots on the internet could be considered armless or usefull for some good informations, because their potential is on sight by hakers that is coming up with bad bots suitably designed to have a point of access on vulnerable and unprotected computers and to execute every action they ask for. Some of that kind of acions include:
Produce and sending some spam that could be usefull to brake down a high number of websites.
What it means to be infected by a botnet?
It means that a botnet could control your computer and develop a net of controlled machine from the distance everytime usefull to avoid security systems. In that case your computer couldn't avoid to be infected like all your internet security system. Bandwidth, like your system resources get rented to unknown bidder who use it for a personal business that could involve other computers and othe devices. Some expert in cybercrime truly thinks that botnets are going to be the most dangerous threat on the internet today with a high rate of expansion in the nest few years.
How many malicious actions these networks of botnet are able to perform in a high-scale? Somebody say hundreds or thousands device could be infected. In which way? Such as:
collecting information from infected device of many users and use it for cybercrime act;
crash a high number of websites using DoS and DDoS system and develop lots of trouble to business and tech company;
delivering a high number of spam to block inboxes for entire hours and days
cracking lots of passwords and other internet security systems to get in bank accounts.
How bot infect your systems?
Bots can also play with outdated software and their weakness to infect it and brake it everytime and in many kind of actions. Some other risky landscape is represented by Trojans or questionable dawloading software usefull as antivirus, and some other painfull way to act with botnets is to sent mail in inbox like some spammers material to infect your computer or some device of one your friends to steal informations or accounts data.
What can we do to prevent it?
Acually there are a lot of things we can do to prevent your computer from being a kind of zombie-machine:
Use to be careful on checking e-mail and their attachments. Every time, also when you are sure about e-mail address they are coming from, take care and never ever open kinda strange (.exe) files.
Block pop-ups and avoid to let open some of it on your device. Have you find some file to open or download that promise you some god and valuable prize? Don't believe them and trash it immediately.
Make use of the best software for internet security. Take care about your choise on computer protection. Mind it a lot and check up update and new versions of that periodically.
Take care to update all your software. Keep eyes wide open for updates and patches on all the system.
To finish, a little info graphic from Kaspesky Lab :

Why not choose BullGuard Internet Security? (a little ad from our portail =) ):
You need to choose a suite for your internet security that offers some better skill on malware detection. Why not BullGuard Internet Security (BGISecurity 12)? That could hold on security all your personale info saved on your computer with some skills like:
a tough Firewall to avoid bots from self install on your PC without your knowledge;
Antivirus engine to brings some of the best reliable Signature-based Detection and the technologies on Behavioural Detection for a higher malware catch rate (65%) a lot better than old antivirus software
Safe Browsing navigation guaranteed from new features to blocks broken or compromised sites to avoid the infection from cyberattack
Thanks to the Vulnerability Scanner in BGISecurity 12 you can completely scan your device and try to detect and install all the updates you need.